Vectorize images, art designs and logo with Super Vectorizer for Mac
Precise raster bitmap images to vector graphics conversion.
Visualized vectorizing process.
Why Choose Super Vectorizer?
Image vectorizing software for Mac: Super Vectorizer automatically traces high quality vector files from images and supports tracing of not only color and grayscale images, but also black and white as well.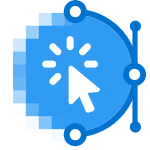 One-click vectorization
Vector graphics is a perfect combination of high picture quality and low storage capacity for art and logo designers. In Super Vectorizer, you do not have to be professionals. Just one-click vectorization, save your time, the rest leave to Super Vectorizer.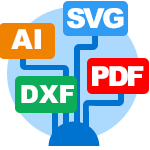 export scalable vector images
Being able to export clean, natty and scalable vector images, Super Vectorizer quickly auto-traces images of lots of formats(png, jpg, bmp, etc.) with superior algorithm. Prevailing vector output layouts(Ai, SVG, DXF and PDF) are available.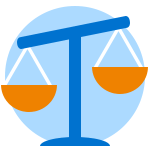 Affordable vectorizing tool
Low cost, high performance, better accuracy. With options for vectorizing images by Edge or Color or Grey Color, Super Vectorizer has powerful preview to inspect the vectorization result in detail which is unparallel at this competitive price.
FEATURES
Vectorize a raster bitmap image and export a scalable vector graphic automatically with one click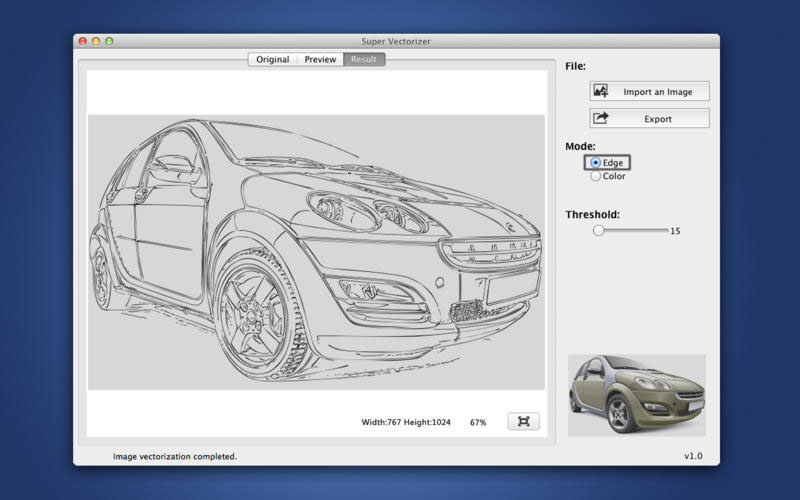 Super Vectorizer is a professional vectorizing software that easily converts raster bitmap images like JPEG, BMP and PNG to a scalable vector graphic with a few simple clicks. Super Vectorizer automatically vectorizes images and creates high quality vector files. Essential modes and settings for vectorization to convert to svg graphics are available.
Edge Mode - Group same-color pixels into dots, lines, curves, polygon or other outlined shapes.

Color Mode - The most common colors may be selected as the representatives, and other colors are mapped to their closest representative during vectorizing.
Mac Super Vectorizer - creatively convert bitmap image to SVG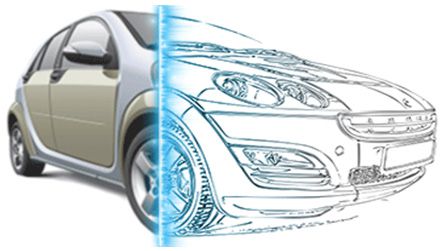 Super Vectorizer for Mac is used to vectorize picture for personal and professional projects alike, whether you are a hobbyist or an graphic design company. With Technological Advances in raster to vector conversion, Super Vectorizer does an impressive job of vectorizing raster bitmap images and convert to crisp, clean, scalable fine line art illustrations and vector Art. It will assist anyone who does lots of vector image cleanup in becoming more productive.
Mac image vectorizer - Super Vectorizer is compatible with OS X 10.8, iMac, Macbook Mini, Macbook air, Lion, Macbook Pro, Yosemite, mavericks, EL Capitan.
Image vectorizer. Made easy.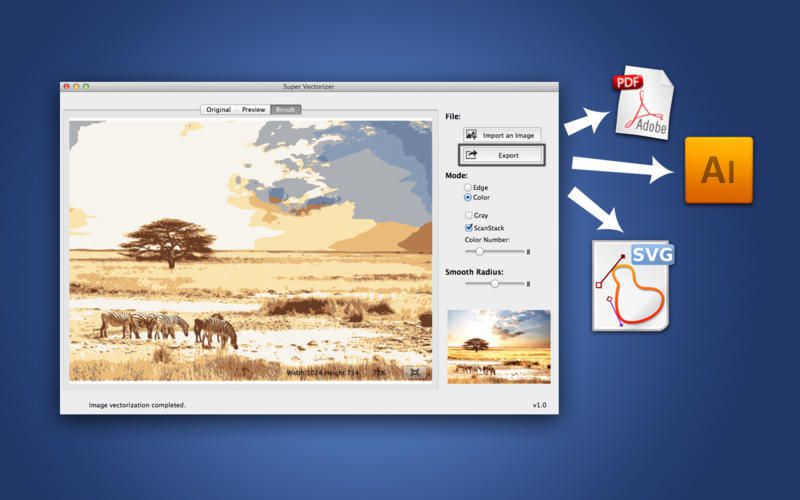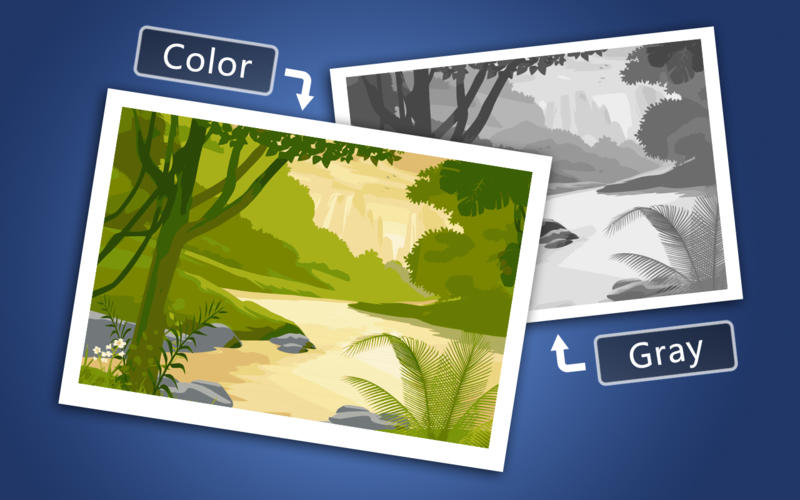 Vector images are used in most aspects of graphic design and are the preferred format for printing, both on paper and on clothes.
Vectorize a logo - In vector images, edges are represented as a mathematical lines or curves, and they can be magnified thousands of times by Super Vectorizer— until the precision of the numbers becomes an issue. Super Vectorizer helps you vectorize logo for commercial use or only for fun.

Vectorizing in graphic design - While a bitmap image can look great on the screen, which usually has a resolution of about 72 pixels/dots per inch (DPI). Vector images are used in most aspects of graphic design, no matter fine line art illustrations or vector art, Super Vectorizer is perfect to convert bitmap to SVG images. Super Vectorizer as your vectorization program to vector images is your solid choice.

Vectorize an image for printing - A bitmap image will normally have to be scaled by a factor of 8 or more when printed since modern printers routinely produce resolutions of 600 pixels/dots per inch. Vector images are the preferred format for printing, both on paper and on clothes. Image vectorizing is necessary to keep the high definition of lines or curves. Super Vectorizer is absolutely an unexceptionable and economic vectorizing software to meet all your requirements.
Vectorize photos of various formats in Super Vectorizer for Mac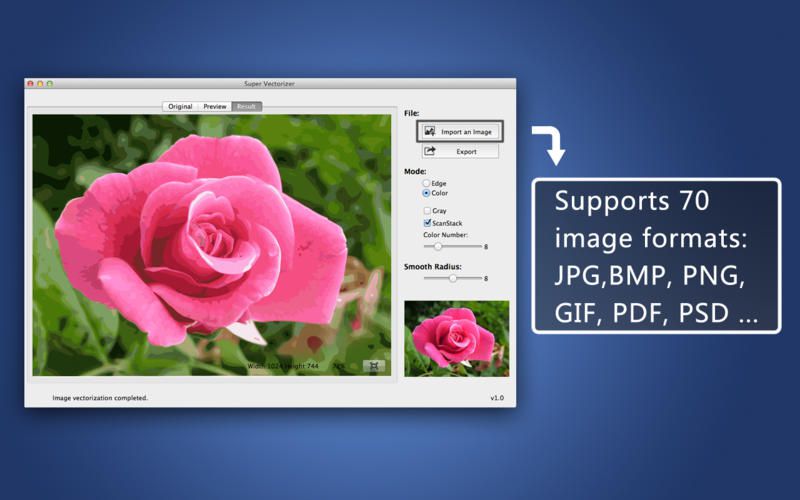 Supported formats of import for vectorizing:

JPG, BMP, PNG, GIF, PDF, PSD, PNT, RGB, ARW, BMPF, CUR, CRW, CR2, DCR, DNG, EPSF, EPSI, EPI, EPS, EXR, EFX, ERF, FPX, FPIX, FAX, FFF, GIFF, G3, HDR, ICNS, ICO, JP2, JFX, JFAX, JPE, JFIF, JPF, MPO, MAC, MRW, MOS, NRW, NEF, ORF, PICT, PIC, PCT, PS, NTG, PNG, PEF, QTIF, QTI, RAW, RAF, RW2, RWL, SR2, SRF, SRW, SGI, TRIC, TIFF, TGA, TARGA, TIF, XBM, 3FR, 8BPS
What users say:
"Nice program for quick and easy vector tracings" -- Aprilschild

"Its strong points are accurate line traces and color separations. It does use bezier curves to replicate round edges, which is an essential feature not often found in vecorization apps in this price range." -- C71