The latest version is available here.
Step 1. To install Super Vectorizer, double-click the disk image.

If it doesn't open automatically, right-click to open it, then follow the onscreen instructions.

Step 2. Drag and drop to install.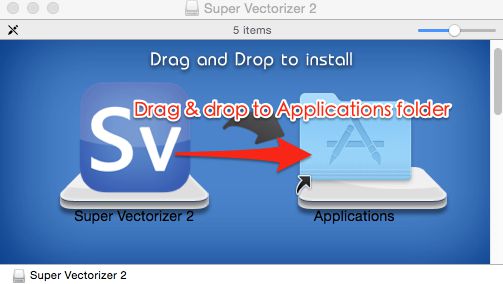 If you get a warning dialog about installing an app from an unidentified developer, it doesn't necessarily mean that something's wrong with the app. Maybe it was written before developer ID registrationbegan or has not been reviewed by Apple. Anyway, we ensure 100% security of Super Vectorizer. To open in a safe approach:
In the Finder, locate the app you want to open.

Don't use Launchpad to do this. Launchpad doesn't allow you to access the shortcut menu.

Press the Control key, then click the app icon, then choose Open from the shortcut menu.
Click Open.

Super Vectorizer is saved as an exception to your security settings, and you can open it in the future by double-clicking it just as you can any other app.