SVGMini reduces SVG image to mini size without lossy quality online. In order to reduce the size of the SVG file, SVGMini Online uses lossless compression techniques to compress the inefficient SVG codes. On average, it's estimated that there will be a reduction in their size of over 80% when they're compressed.
Step 1. Click the button below to reduce SVG image to smaller size online.
Click Here to Reduce SVG to Smaller Size Online
Step 2. Click "menu" at the top left and click "Open SVG"


Step 3 - It is a plus step but it could be not necessary.
You can adjust the "Global settings" at the right to get rid of unnecessary groups. Every effort will be made to remove or reduce unnecessary attributes whenever possible in order to reduce the svg size. By doing so, SVGMini Online is able to do the same thing as the original SVG image, only in a much smaller size due to the removal of unnecessary data.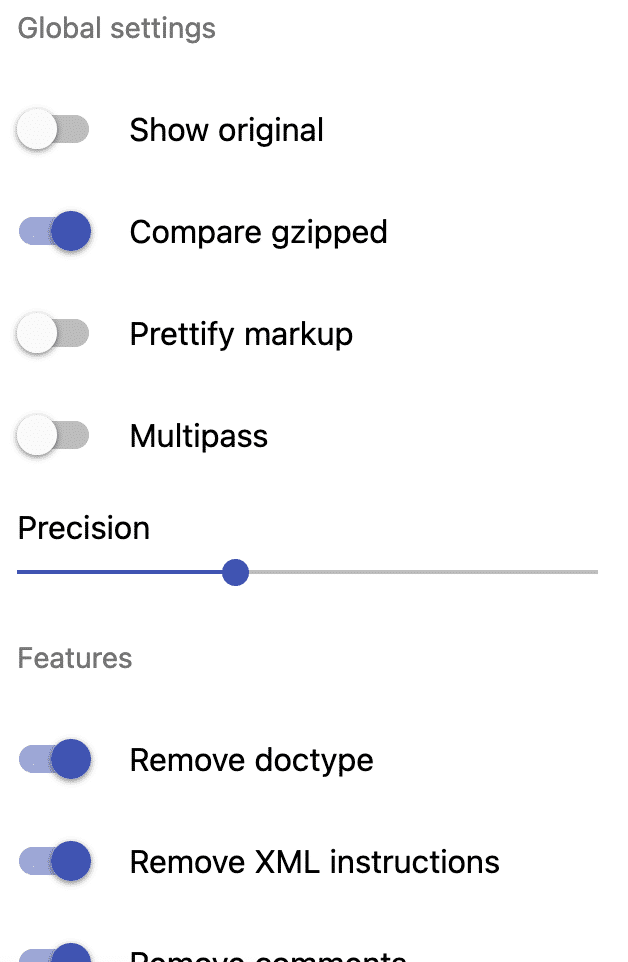 Step 4. Click "Drop" button at the bottom right to get the smaller size SVG file
SVGMini Online could reduce SVG files with 80% reduction in bandwidth, exportable to SVG files.

It is important to understand that vector graphics editors like Adobe Illustrator or Inkscape embed a great deal of information in exported SVG files, which is not required for presentation purposes.
By removing this superfluous information, you will be able to reduce the size of your SVG files, as a result.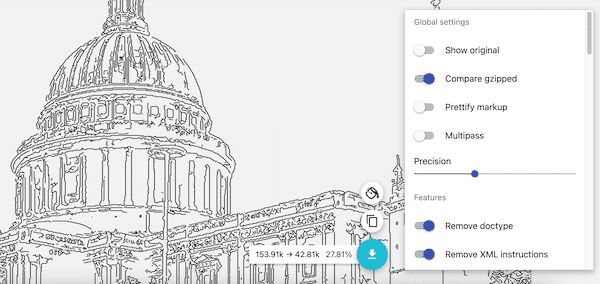 How does it benefit you?
● The file size of the file can be reduced dramatically, as well as a substantial amount of bandwidth can be saved at the same time. In order to generate a high-quality SVG file, the quality should not be compromised.
●●The quality of the images is far superior to that of PNGs or rasterized images as compared to them.
What is the purpose of SVGMini Online?
With the help of SVGmini Online, you will be able to use SVG images in the same way as you would with any other image format as easily as possible. Our goal is to ensure that the file size of the SVG file is as small as possible, while also retaining the benefits of SVG, which allows high quality rendering on all devices while maintaining the ability to make the file smaller.
Could you explain the compression of transform attributes?
Whenever possible, we will apply transformations to elements, including gradient elements, as a way to save space by applying transformations to elements without affecting the rendering of the element. The transformation process will be simplified to make it easier for you to perform complex, multistep transformations. Those characters such as tabs, line feeds, and carriage returns that are useless in SVG will be safely removed from the document.