Color Mode 1, the default mode, in which the reasonable parameters are preset for you to quickly see the optimal vectorized result. This mode supports tracing in different color numbers and gray, and you may manually make some adjustments according to the preliminary result.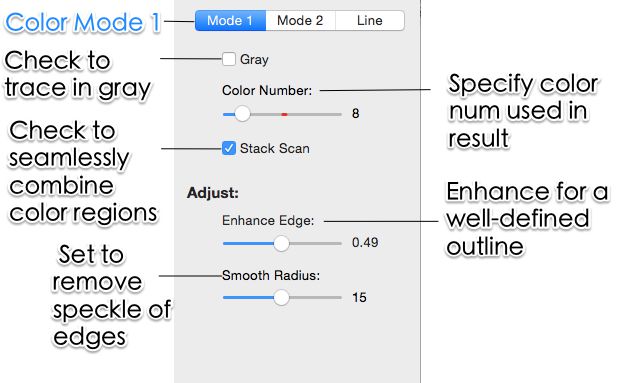 Stack Scan: it is preferred in most cases except line art.
Color number: it ranges from 2 to 64. More colors you use, more natural the result will be, but we advice to use as less color as possible for a clean vector output.
Enhance Edge: it is commonly used to eliminate overlapped boundaries.
Smooth Radius: useful tool to remove some speckle and make the lines smoother.
Mode 2
Compared with Mode 1, the imported image will undergo color quantization before processing and the result tends to be neater and have fewer excrescent color regions.
This mode is designed for those who have complex images in rich and gradient colors but would like a clean vector result. Accordingly, you are allowed to adjust the setting of region segmentation.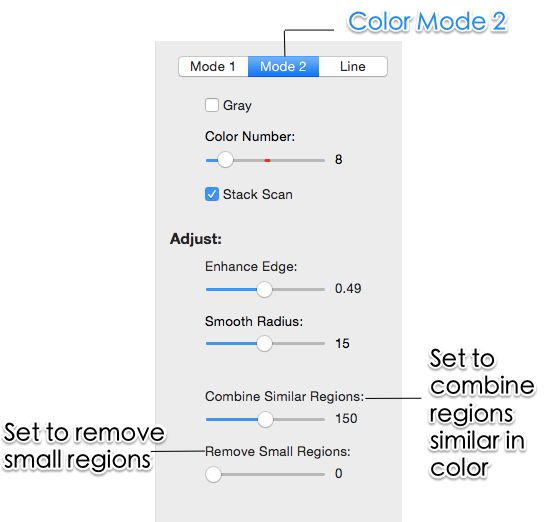 Combine Similar Regions: to combine regions similar in color, it varies between 5 and 300. Basically, the default setting is suitable for most cases.
Remove Small Regions: to remove small color regions, make the result cleaner.
Line
While using this mode, Super Vectorizer for Mac will trace the edge line in black and white. You may fine-tune the result by setting the threshold. Also, skeletonization is supported in line mode.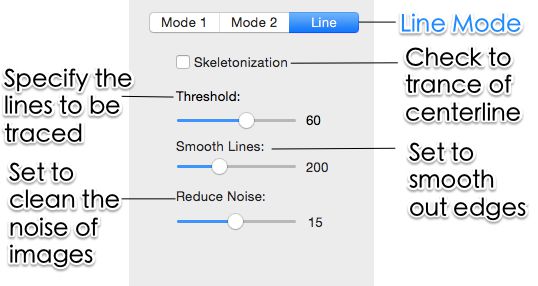 Skeletonization: to get a thin version of that shape that is equidistant to its boundaries, that is to trace of centerline.
Threshold: changes the threshold for drawing the edges. The higher the threshold, the more tolerant the image is to "edges". You would typically use a higher threshold in brighter images.
Smooth Lines: set to smooth lines of edges, ranging from 150 to 300.
Reduce Noise: set to clean the noise of images, ranging from 1 to 30.